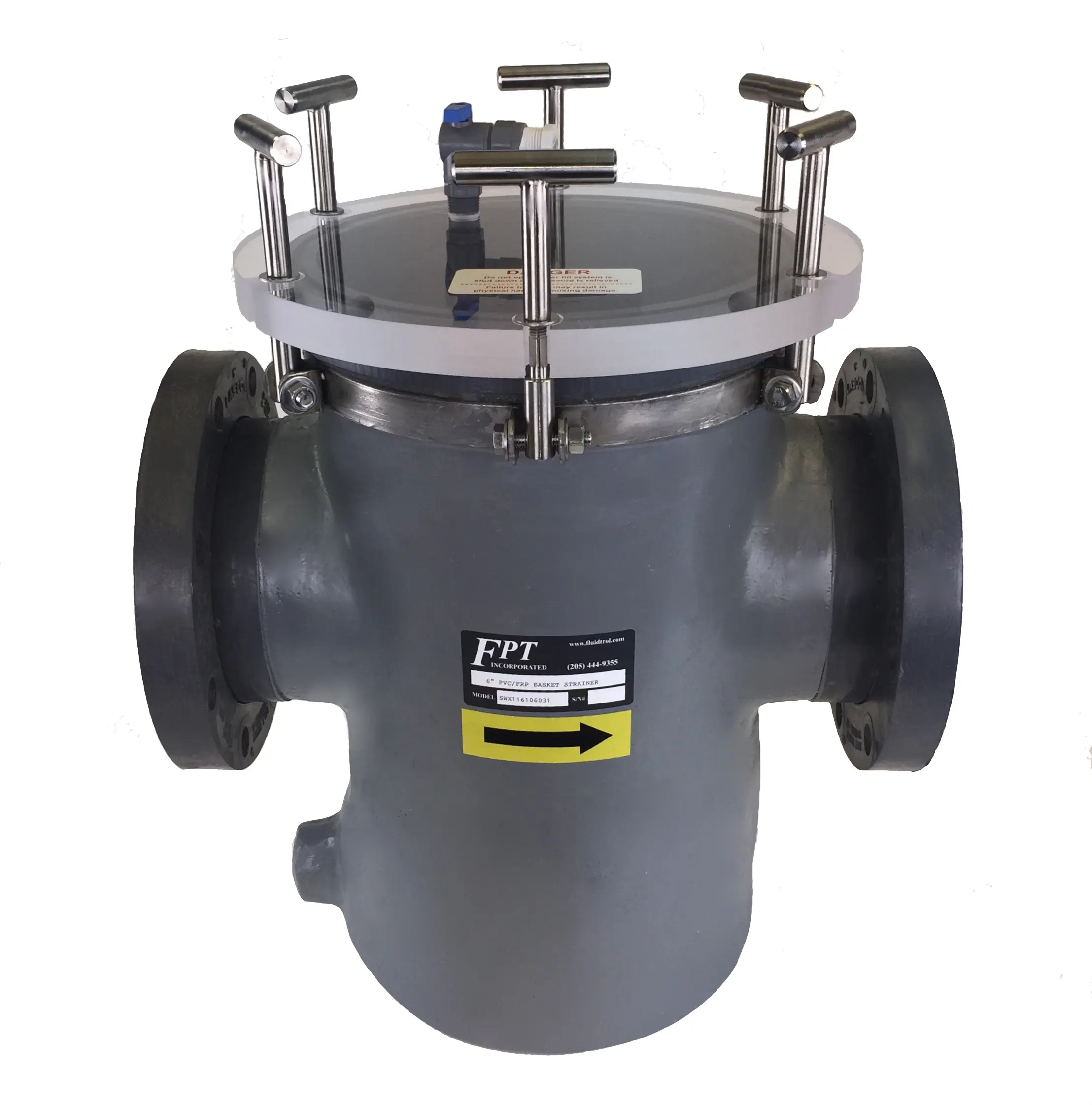 Fluidtrol Process Technologies, Inc. manufacturers basket strainers to identical centerline and face-to-face dimensions as Marlow C10X and D10X Series. However, our strainers are constructed from the more corrosion resistant PVC/FRP laminate.
Included with this strainer package is a clear acrylic lid, stainless T-Handle lid attachments, Van-Stone Flanges and heavy duty stainless basket- 1/8" perforated. All components and fabrication as in our SW Series Aquatic Strainers.
All of our strainers are available in duplex configuration, which includes the option is to purchase a duplex assembly minus the isolation valves. See our Duplex Strainers for more information.
Composite construction offers corrosion resistance of PVC and the mechanical strength of fiberglass.
Molded FRP Body contoured for minimal form drag.
Engineered for very low-pressure drops making it an excellent choice for pump suction applications.
Best in class hardware and accessories.
Customizable dimensions and features.
Acrylic Lid
Clear acrylic lid features almost crystal clarity and weather-ability. Covers are 1″ thick and are the standard Fluidtrol 6″ Strainer size.
Flange Connection
All strainers are supplied with loose rig flanges. PVC strainers utilize SCH 80 flanges produced from PVC type 1 and conform to ANSI B16.5, Class 150.
Flow Rate
Sized for typical commercial aquatic flow velocities in respective strainer inlet pipe size.
Lid Attachment Assembly
Machined from solid 316 SS bar and should outlast the strainer. The SWX Series has qty : 6 T-Handles.
Materials
PVC/FRP Housing Construction.
Port Configurations 
Standards
AWSD1.1 AWSD1.3 ASME B31.4 ASME B31.9
Strainer Identification
All strainers are given labels with a serial number for future reference. Complete records are kept at the factory. In the event an end user needs assistance, parts or replacement, Fluidtrol is able to identify the exact strainer. Even special circumstances of each individual unit can be filed.
Basket Strainers
SWX Basket Strainers next >
SWX1